shop our premium
BLASTED INK SAVER
Whether you're a tattoo artist looking for the right ointment to work with or a collector looking for the perfect aftercare, we all know that a fresh, crisp tattoo is the ultimate badge of honor. That's why we've carefully formulated our INK SAVER to preserve your tattoos and give them the aftercare protection they deserve.
shop now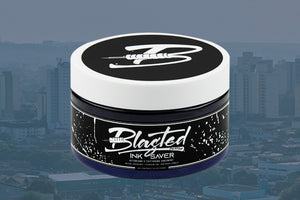 our Ingredients
Check out our ingredients and see what they can do for you.

- Organic helianthus annuus (sunflower) seed oil
- Beeswax
- Euphorbia cerifera (candelilla) wax
- Hydrogenated castor oil
- Butyrospermum parkii (shea butter)
- Organic calendula officinalis flower extract
- Organic Theobroma cacao (cocoa) seed butter
- Aloe barbadensis leaf extract
- Calophyllum inophyllum (tamanu) seed oil


VIEW more
why us
As fellow tattoo artists and collectors, we've become tired of the over-saturation of tattoo aftercare marketed products from individuals and companies that have no ties to the industry or knowledge of tattoos in general.
When you choose Blasted, you're choosing a product that is MADE FOR THE INDUSTRY, BY THE INDUSTRY.
Learn more
about
blasted llc
Petroleum-based products have always been a staple in the tattooing industry in terms of application and healing. We knew there had to be a more efficient aftercare & tattooing ointment, so we made one ourselves.
learn more